How do we get to net zero without an administration in place in NI?
The seven-year itch
Net zero is real, and it's happening. We made carbon-neutral commitments at COP26 and, more recently, at COP27, and we need to stick to those goals. Otherwise, nature will have other plans for us.
In the mainland UK, the Climate Act legally binds businesses to hit net-zero targets under COP26. But in Northern Ireland, there are no legal obligations for this, despite being in the same decade where these green goals have to be met.
This leaves Northern Ireland with the big question: how do we get to net zero without an administration in place when there's no compulsion to do it so quickly?
Wilson Nesbitt Banking Lender Service Partner Natasha Adamson offers her insights.
What's happening in Northern Ireland compared to the rest of the UK?
In late March 2022, Clare Bailey of the Green Party introduced a Private Member's bill, which seeks to establish a legally binding net-zero target to guide NI to achieve zero carbon emissions by 2045. However, there is no legally binding plan set out as of yet.
By contrast, in the mainland UK, the government mandated a 30% carbon cut on all new buildings and 27% on others. The housing sector in England and Wales is investing in new homes that produce around 30% less CO2, as heating and powering buildings make up 40% of the UK's total energy use.
This can give Northern Ireland an idea of what to expect, but we can't sit back and wait for a law to pass, especially since the housing market is responsible for 27% of global energy-related carbon-dioxide emissions. Collectively, the whole housing market – from developers to lenders – has a huge part to play.
How (and why) are we going to act when there's no compulsion at this point?
How do we incentivise people to convert to hybrid heat pumps, stop using fossil fuels, and improve insulation? And then how do we alter the mortgage sector to encourage people to improve EPC ratings? These are the big questions that need answering.
In the rest of the UK, there is the Boiler Upgrade Scheme (BUS), encouraging more people in England and Wales to install low-carbon heating systems like heat pumps and biomass boilers.
And in England, all newly rented properties will be required to have an EPC rating of C or above instead of E or above by 2025. Existing tenancies will have until 2028 to comply with the new rule changes. Yet Northern Ireland is still woefully behind.
We need to incentivise behavior, normalize it, and then penalize or restrict activity when a goal has been reached. For instance, we could incentivise people to join wind-power schemes and pay for people to put solar panels on their homes. This would normalize this behavior and bring the price down. Then, once a goal has been reached, the incentives would be removed, and those who aren't green in the long run could be penalized.
The problem for many house developers is that they want to avoid any additional costs, and so they only do things like this once they absolutely have to. But it will be imposed on them one way or another. If they can get on top of it, it will be less of a chaotic dash when it finally does happen.
Who will lead the way for Northern Ireland's net-zero policies?
The climate crisis doesn't care that there's no executive in Stormont. So Northern Ireland's mortgage lenders, housing developers, and others in the market need to unite to establish a shared vision and then lead the way in delivering it.
In some ways, this is already happening – some lenders are already using UK-wide lending criteria to meet their own green credentials obligations.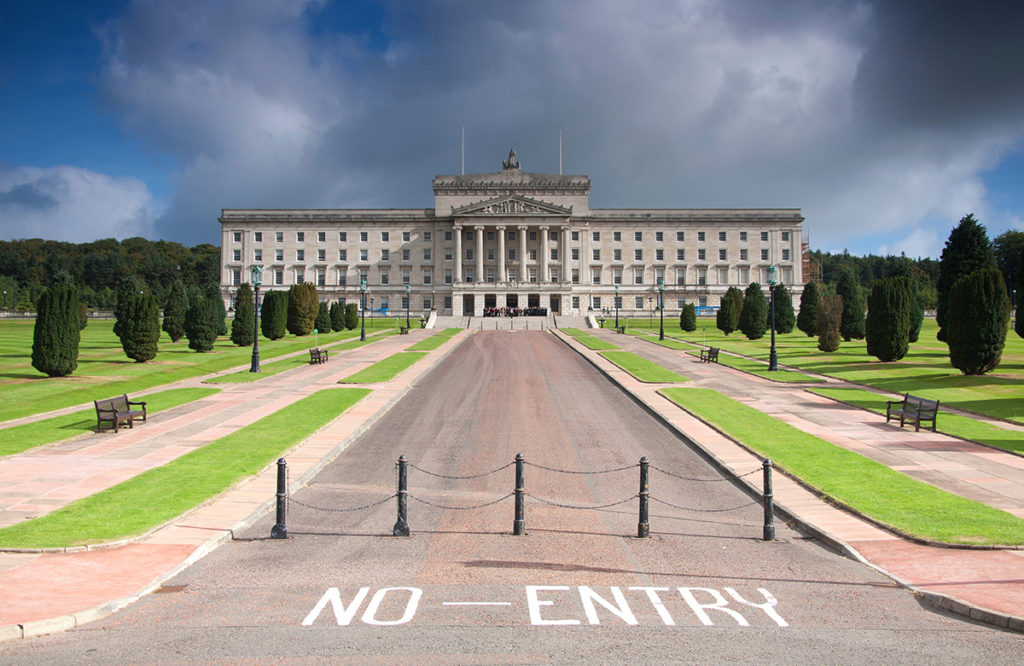 Potentially, in three or four years' time, we could have a scenario where banks refuse to lend money or penalize homeowners for not having greener housing elements in place. We don't want that for our customers when there are steps we can all take to move towards a greener future – education about how to increase your EPC rating as a homeowner is a huge one, as is perhaps some support funding to transition.
More broadly, in the commercial real estate market, loans that are made to developers to develop the property may well include ESG covenants – if ESG criteria aren't met, interest rates may rise.
There are so many things to consider and many challenges ahead. But we have to start somewhere. We don't have the answers yet, but we must find them soon. Otherwise, the housing sector and customers will be hit hard, and all of us hit even harder if nature has its way.
Partner Natasha Adamson;
"The mortgage lending industry supports the end goal of Net Zero and the greening of the UK housing stock that will play such an important part in achieving this.

So far [in Northern Ireland], Danske Bank has been paving the way with the introduction of their carbon neutral mortgages- the first to be certified in the UK as carbon neutral. The Carbon Trust has calculated the emissions per mortgage at 96kg CO2e, equivalent to driving 241 miles driven in an average car, or charging 11,678 smartphones.

To get this down to carbon neutral, the bank will cut its footprint and offset any remaining emissions by investing in projects that reduce them by the same amount as those generated by providing the mortgages.

Leeds Building Society have also now agreed a deal with Hometrack to assess the impact of climate change on its mortgage portfolio and there are a small number of lenders who have already implemented a minimum EPC rating on buy to let properties, albeit that legislation has not yet come into force in this jurisdiction.

AIB also offers a green mortgage, which gives a more favourable rate- which is only available on properties with an EPC rating of A or B.

However, Northern Ireland, like a lot of the UK, still has a long way to go. The evolution to a mortgage market where green finance becomes the status quo- will require careful public and private sector collaboration.

ESG Mortgages and Green finance in general, does however offer the financial industry an opportunity to partner with regulators and governments, in developing a strong, future roadmap for the mortgage market.

Where government representatives are absent- like in Northern Ireland at the moment, policies will still need to be put in place for outlining the essential criteria to be met by businesses- and by a certain date, otherwise NI will get left behind- that's the real incentive."