Top 10 Paid Professions in Northern Ireland
How they might Protect their Wealth
Northern Ireland is home to some of the most successful entrepreneurs, business owners and sports personalities, and is a powerhouse in business and wealth management.
With a highly skilled workforce and a supportive business environment, the region offers endless possibilities for businesses looking to expand or establish themselves.
In this feature, Legal 500 individually ranked Partner Lenore Rice explores the highest-paying occupations in Northern Ireland and how both younger and older people could best protect their wealth.
What are the top ten high paid roles in Northern Ireland?
According to recent statistics, some of the highest-paying jobs in Northern Ireland include:
Senior Medical Professionals
Judiciary
Legal Professionals
Banking Management
CEOS
Finance Professionals
Orthodontics
University Professors
Pilots
Marketing Management
What planning should I consider in the early stages of my career to protect my wealth?
No matter your career, our financial goals and priorities change as we go through life. For younger individuals, protecting their wealth may involve the following areas:
Investment and Savings Advice
Younger people have more time to grow their wealth through investments such as stocks, mutual funds, and real estate. However, they also face more risks due to market volatility and economic uncertainty. Therefore, if you're in the earlier stages of your life, it's crucial to diversify your portfolio and invest in assets that align with your risk tolerance and financial goals.
Cohabitation Agreements
If you're in a relationship, you may be considering cohabitating, so taking measures to protect your assets is essential. A cohabitation agreement can help ensure that you're both on the same page when it comes to who owns what and what will happen if the relationship ends. It spells out each person's interests in the home and any other shared assets, such as furniture or bank accounts.
Cohabitation agreements help set clear boundaries at the start and prevent misunderstandings later down the line. It's important to remember that any agreement reached is legally binding and could be enforced by a court. It's worth taking your time to get independent advice from a lawyer before committing anything in writing. This could save you money in the long run and give you peace of mind that your interests are protected.
Prenuptial and Postnuptial Agreements
As relationships progress, it's wise to consider protective options such as prenuptial and postnuptial agreements. Although some may view them as unromantic, they are a sensible way of protecting your wealth in the event of a breakdown in the relationship.
A prenuptial agreement is a legally binding contract between two people about to get married. It details how you will divide your assets and finances if you decide to separate. These agreements can have wide-ranging implications, from specifying what happens to property or business interests to outlining spousal support if either partner loses their job.
A postnuptial agreement is a similar document created after the marriage, usually when one partner has inherited money or received an inheritance. This could benefit you if you didn't have a prenup in place, as it provides an opportunity to update your financial arrangements.
It's important to note that both prenups and postnups are not set in stone – they can be revised or changed at any time before separation or divorce. Ultimately, they give you peace of mind in protecting your assets and securing your financial future together.
Separation Agreements & Financial Settlements
When going through the difficult separation process, protecting yourself and your wealth is essential. A separation agreement can protect your assets and provide a level of certainty during an uncertain time. It can also be used to clarify financial arrangements, such as spousal maintenance and other financial responsibilities, so that each party understands their commitments.
The agreement can also help to reduce conflict as it sets out agreed terms in writing that you're both happy with. This can help you settle your discussions amicably rather than leading to costly and time-consuming court cases.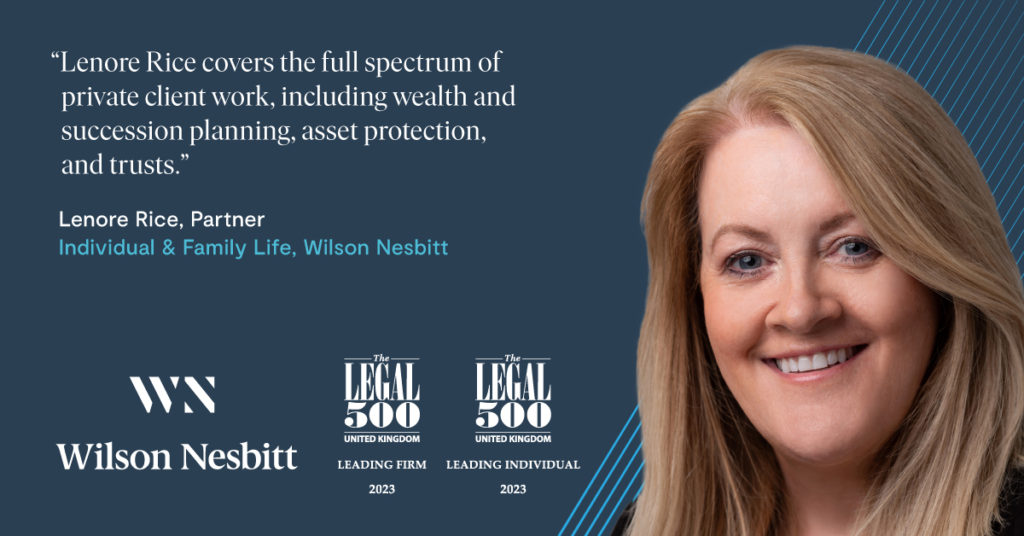 Pension Planning
Once you reach middle age, it's time to start thinking about pensions and saving for the future. Pension planning is one of the best ways to protect your wealth and ensure financial security in retirement. It may seem like a daunting prospect, but by taking steps to plan and invest in a pension pot early on, you can enjoy the rewards later down the line.
One of the most significant advantages of pension planning is that it offers potential tax relief when investing for retirement. This means that by contributing to your pension fund, you can reduce your income tax bill, helping to ensure your money goes further.
Pensions give you peace of mind that even if something unexpected happens during your working life, such as illness or redundancy, you can still receive income in retirement. As such, they offer a layer of security that other forms of investment don't necessarily provide.
What about wealth protection & planning in the later stage of my career?
As we age, it's natural to worry about our financial future. We want to protect our hard-earned wealth and give it to the right people when we're no longer around. Protecting your wealth when nearing retirement age or have already retired includes:
Power of Attorney
A power of attorney is a legal document that allows someone else to make decisions on your behalf. This person can manage your finances, pay bills, and make other important decisions if you become incapacitated or unable to do so yourself. This means that you can ensure that your wishes are followed, even if you cannot communicate them directly.
If you don't have a power of attorney and become incapacitated, your loved ones may need to go through the court system to gain control over your finances. This can be time-consuming and expensive, not to mention emotionally draining. With a power of attorney, you can simplify the estate planning process for everyone involved.
Wills and Estate Planning
Having a comprehensive estate plan is vital for individuals of all ages and stages of life. As we age, it's even more important to have this protection in place.
Having an up-to-date will is essential for protecting your wealth as you age. A will sets out what should happen to your money, property and other assets in the event of your death. With a will in place, you can ensure your estate is distributed according to your wishes. Not having a valid will can lead to complicated situations where families must go through lengthy court battles to decide how assets should be divided up.
A comprehensive estate plan also considers other aspects of passing on one's wealth. This could include setting up trusts for children or grandchildren, deciding who would handle any outstanding debts or taxes, and planning for long-term care if needed.
By taking the time now to think through all the possible scenarios related to passing on one's wealth, you can help make sure that everything runs smoothly when the time comes.
Trusts and Gifting
A trust is a legal arrangement where you can transfer assets or wealth to someone else – in this case, your children – without losing control. This means you can give your children the financial security they need while still having the power to decide how and when the money is spent.
Trusts are particularly beneficial when it comes to minors. By setting up a trust for your children, you can ensure that their wealth will be looked after until they're old enough to understand how it works and make decisions on their own.
You can also set conditions so that your children only have unrestricted access to their inheritance once they reach an age that you deem appropriate. This ensures that they will use the money responsibly and won't be tempted by short-term spending habits.
If you want to gift your children part of your wealth, timing is everything. If they're minors, you'll need to set up a trust or custodial account for them. If they're adults, you'll want to make sure they're financially responsible and settled in life enough to handle the gift.
Looking Ahead
Whatever stage of your life and career, making plans to protect your wealth is always important. Throughout life, situations change. That is why it is important to review the measures you have in place so that they can always fit your needs.
Get in touch with Lenore and our award-winning private client team to find out how we can help you plan ahead and best protect your finances.