Wilson Nesbitt Property Team win Two ESTA Awards
Wilson Nesbitt's Residential Property Conveyancing team is proud to have taken home two ESTAs Awards for 2022; winning the first; a Gold Award for Conveyancer in Northern Ireland and a second award; Best in County Conveyancer for Co. Antrim, NI.
The 2022 ESTAS Awards ceremony took place at the Grosvenor House Hotel, London on Friday 14 Oct, the biggest customer feedback platform and award scheme for property professionals across Northern Ireland and the rest of the UK. The Awards are particularly unique in that they are entirely powered by customer reviews; shortlisted teams and winners are determined by reviews and scores from customers, who have experienced, and were impressed by the service they received.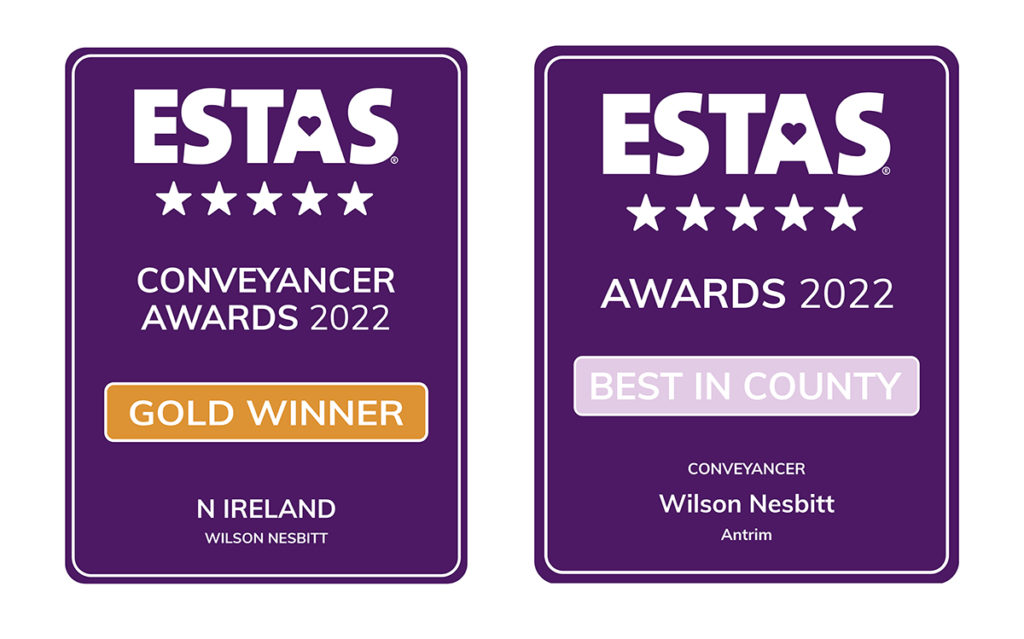 This is the third consecutive year our Conveyancing team, led by Partners Ian Creighton & Lauren Burns, have been successful at the ESTAs;
Partner Ian Creighton;
"We're incredibly proud to bring home these two awards for client service delivered by our Residential Property team, not least because they relate to a year of intense pressure in the industry with large volumes of cases involving complex chains of transactions and strict deadlines. That our clients felt compelled to leave us such fantastic reviews of the service they experienced is testament to the dedication, professionalism and expertise of our entire team."
Managing Partner; Gilbert Nesbitt;
"We congratulate our Residential Property team on winning these ESTA Awards, for a third year in a row, which reflects on their impressive commitment in delivering a high-quality service. We would like to show our great appreciation to our valued clients for their continued support & expressions of satisfaction – which is key to winning these awards."
The Residential Property team; Partners Ian Creighton & Lauren Burns, April McDowell and Claire Annett are pictured here with television presenter & ESTA Awards host; Phil Spencer.
Get in Touch
Find out how our award-winning team can help you with your Residential Property query, call us on 0800 840 9290 or email us here.